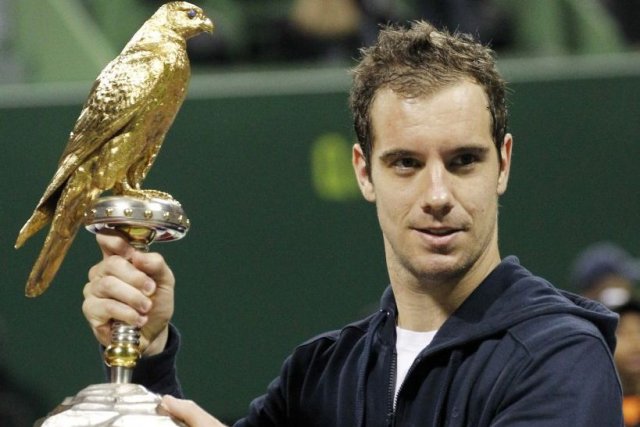 I do perfectly remember the quarter-finals between Yannick Noah and Ivan Lendl back on that 31st May, 1983, which led to his final victory in the finals vs Wilander. I was singing on that May day «Allez Yannick !» And more than singing, I was throwing piles of encouraging words to Yannick from the upper tribunes where only a small-budget student could be.
And he turned his eyes several times towards us. I am sure he heard me on that day !
Now let us have a look at the coming QF-Quarter-Finals of Richard Gasquet with Andy Murray and his potential next matches until the Finals.
Andy Murray is not only a brilliant tennis player but he is talented, full of imagination, humanist and he certainly is an artist in his head. He has proven along the years that he was able to play great matches and to win. But if I may, I would say he is sometimes a bit of the 'Tsonga-type', extremely talented but with a mind turned to thousands of topics and not always concentrated.
Looking at Richard Gasquet this year, after the brilliant Wimbledon QF he won last year, beating 11-9 Wawrinka in a breathtaking 5th set, after an amazing rallye, I think he has grown out of his box. Remember June last year, he beat that same Wawrinka who had just defeated Djokovic in the French Open Finals. This makes me think Gasquet has revealed more of his talents to himself.
Of course he is not 2.08 meters tall like John Isner, serving aces at 213 kmph or 222 kmph, but he has a comprehensive tennis play made of excellent 76% first service against Nishikori, excellent volley and superb backstroke, one of the best in 2016 tennis, together with … Wawrinka.
Moreover, he has beaten in his 12-year long experience as an ATP PRO many key and Top10 players, learning each time some better thoughts about the game and his best opponents.
Some images even show he beat Nadal in the 'Petits As' tournament when he was in his young teens. He will now turn 30 on June 18th, 2016 and be sure he is eager to play his best year ever.
As the last superb match against Kei Nishikori showed, Gasquet has the fighting spirit of an Irish rugby team by himself or of famous Rafael Nadal. Indeed he plays each point and does not leave the big pies to his opponents like Tsonga or Monfils often do. Gasquet runs on every ball, rushes to the net to volley and is also able to surprise his partners with amazing angles at any time.
Another two points have impressed me in Gasquet.
First, Richard is dedicated and keeps concentrated on every ball and every occasion. He doesn't get puzzled for too long and is able to get back on difficult points as he's encountered many of such ones vs the excellent Nishikori, who did not give any point to him. He also plays with his balls with various effects and wins the points one by one.
Second, Gasquet has an excellent team of trainers with Sergi Bruguera and Sebastien Grosjean. Let us remind here that Sergi Bruguera won the French Open both in 1993 and 1994 and is leading for years a Tennis Academy with some success in Spain. And the sharing of good visual exchanges between the two and the excellent coaching of 'Sergi' certainly helped 'Richard' reach a new level of play.
For all these reasons, I think Gasquet may not only beat Murray in QF but also Wawrinka in SF and possibly Djokovic in Finals if these great champions happen to be reaching these matches in their turn.
And 2016 is also a special year for all, it is an Olympic year, and you may bet Richard will be in Rio to play and win the Olympics as well and not to stay on the beach with girls.